Why Us
---
Your Special Day
Congratulations! It's been a year of practice culminating in one special day as your daughter begins a holy reading from the Torah… and the night ends with a celebration of dancing to last a lifetime.
Throughout the day there will be so many bat mitzvah moments with friends and family that you'll want to remember and keep forever. Through our professional photography and videography – you will, we promise. Years later these moments will still come alive so you and your daughter can remember and enjoy the special occasion together, the laughing, and the family and friends who came to celebrate this special time.
Details
---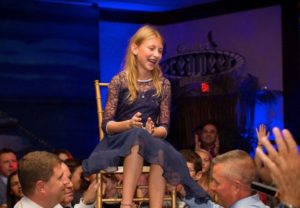 At Little's Photography we are known for our personalized, boutique service while also providing all the items you'll need to remember your bat mitzvah – like heirloom quality photography albums, gorgeous invitations. Here are just a few of our bat mitzvah photography and video offerings that will help make the planning easier for you:
Professional Lifestyle Photography

Professional Videography

Large Portrait Posters

Pop Up Studios

Custom Photo Albums

Sign In Books

Save the Date Cards

Custom Invitations

Thank You Notes

And Custom Framing
Bat Mitzvah packages start at $2,400. Inquire today for available dates.
What to Expect
---
We are honored to be a part of your special celebration and this once in a lifetime event. We feel blessed that most of our clients either returning clients or personal referrals.  
You can find us working with families from many temples in the Fort Lauderdale, Florida area to include Bet Ovadia, Temple Beth Torah Sha'aray Tzedek , Etz Chaim and Las Olas Chabad and more. 
Don't wait. Many of our families want to make sure we are there for their special day and choose to reserve a Bat Mitzvah photography or videography date with us more than a year in advance. Contact us today to learn more.
Your Bat Mitzvah Choices
---
Whether you've planned an intimate family gathering or an all out shebang, we'll be there for you to capture what's special on this day. We are able to take photography and video of events ranging in all sizes.
Professional Lifestyle Photography
This professional photoshoot is scheduled in advance of the bat mitzvah. This can be shot on location or in our studio. You can choose these images for use on invitations, sign-in books, posters or presents you wish to give to friends and family. Also this photoshoot may help you pull together the decor ideas for the day.
Day of Ceremony / Celebration Photos and Videography
We will coordinate with your family and rabbi to take photos separate and independent of the bat mitzvah ceremony and in your synagogue. We also offer videography services too.
Using the images from your lifestyle photography session we will create life-size poster prints.
Our pop ups are a fun twist on the photo booths you may have seen around town. We pack up our studio and create an on site professional photography studio at your event. They are professionally lit and arranged so and your guests can be unforgettable and be the star behind the lights & the camera.
Let's gather the very best memories you have to make something fabulous. This is one of the most popular requests we receive. You can gather your treasured family photos from throughout the years and also use the images from your lifestyle photography session, ceremony photoshoot or celebration photos. Together we will create a beautiful, heirloom quality, custom photo album. It'll be one of a kind and you'll love it!
We'll help you create a custom sign in book with your choice of images from the lifestyle photography session.
Save the Date Cards, Custom Invitations & Thank You Notes
If you'd like us to help you with planning, it'll be easier than ever with our selection of reminder, invite and thank you cards.
Gallery
FAQ's
---
What is your pricing?
Packages start at $2,400. Contact us today to learn more.
---
Can you just take photos of the Bat Mitzvah and then give me the pictures after?
Yes! We do that. Contact us to see if your date is available and we'll charge you per hour for our professional photography services. After the event we color correct, crop and artistically enhance the best images, then release them to you with full digital rights.
---