Why Us
---
For some women, being pregnant is one of the best experiences of their life. It is truly one of life's miracles and deserves to be documented. Women who are almost full term have an unprecedented magnificence and great beauty. It can be a glorious time and definitely is a special occasion. We offer a wide range of Fort Lauderdale maternity photographer services to suit you:
Private Studio Shoots
Gender Reveals
Sibling + Mommy Shoots
On Location at Your Home, the Beach, the Park or Elsewhere
We are masterful at capturing this special time between you and your baby and helping you choose and define your unique style.
Details
---
We are often asked, when is the best time to do a maternity photo shoot? The answer varies, but the factors to consider do not. Here is what you need to answer first: Do you want a fully round belly, but without the last few weeks of water weight gain. If so then right at 9 months will work best. Go 8 months if you want the shot to look like you are anticipating the baby's arrival, in other words, if you want it to look like you are looking forward to being a mother. If you are worried about excessive water or weight gain, and you started showing early, then 7 months might be your best option.
What to Expect
---
Do you like the idea of a private studio where you can be lit in such a way that to focal point of the image is exactly where you want it? Or we can go on location to your home, the park, the beach; where the whole shot is stylized to showcase you at your most feminine. Do you want to be fully clothed, fully nude, or somewhere in between?
We will begin with a consultation to help you determine what feels right, then we get right to work on creating the finished piece. The whole point of the experience is to help you remember how magical a time it was.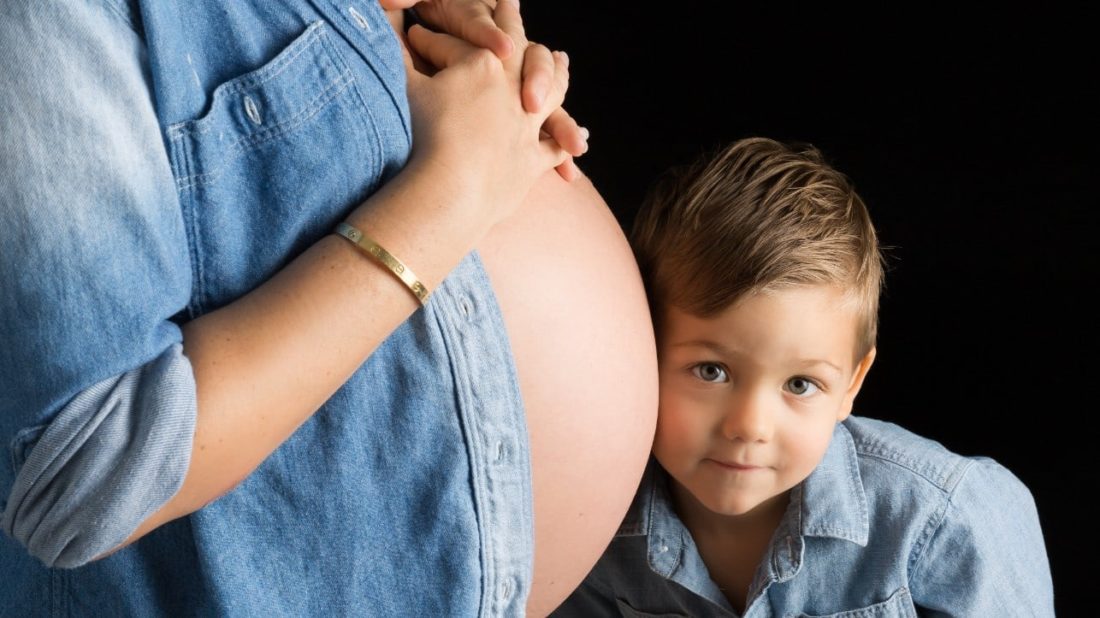 FAQ's
---
Do I have to choose between studio and on location or can I have both?
You do have to choose one for your pregnancy photos. Each shoot requires different planning and preparation. They are two totally different shoots.
---
What locations can I go on for my maternity shoot?
The sky's the limit. We love to create interesting and artistic compositions. We will discover the best location together during our consultation.
---
What should I do with the images?
Most of our clients want one statement piece. This is usually hung in a private area of the home like a master bedroom or powder room. It is also common to use the images in pregnancy announcements, for a baby shower photo, in a small keepsake album, or to be paired with birth announcements. Your maternity photos will be a reminder of the time when you stopped everything to honor the magical stage of life you were in.
---
Do I get to keep all the digital images from the photoshoot?
Two of the most common client statements we hear are, "That's the best picture of myself I've ever seen." and "Well, I gotta have that picture." How does that happen? We do not give you every image we take. Photographers who do that are adding a lot of mediocre images that you will never use, to the 1 or 2 good ones they captured so that it feels like the value is there. We operate differently. For over 20 years we have focused on the experience and quality of the images that we take. Our clients don't need quantity. This is part of what makes Little's Photography unique and has made us an industry leader. Our pictures are priced for great. If they are not great, you are not going to buy them. Our job is to make sure they are great. And we do our job very well.
---
How much do maternity photos cost?
At Little's Photography, we have a lifetime of experience so we focus on the quality of the images and your experience during the photoshoot. This is part of what makes us unique and has made us an industry leader. Our pricing is structured so that you choose what an image is worth by choosing to purchase it or not. You can purchase just one or you can purchase many. There are always stand out wall art worthy images, and also fun little keepsakes you just gotta have. Just like shopping at your favorite department store, you decide how many items to take to the register. You decide if the value is there. You would never walk into bloomingdales and say, "How much for everything." Same here, where the rule is quality over quantity.
---